The silver ion antibacterial dressing was superior to the traditional dressing plus gentamicin in terms of wound healing time, healing rate and antibacterial effect. In the process of medication, it can be found that the efficacy of gentamicin in larger wounds is much lower than that of silver ion dressings.
Relevant literatures have reported that long-term use of gentamicin will cause ototoxicity and nephrotoxicity, so long-term use is not recommended.
Silver ion dressing can effectively promote the healing of diabetic foot wounds, inhibit the growth of bacteria on the wound surface, and has no obvious adverse reactions. It is recommended to be used in the treatment of diabetic foot wounds.
The appearance is similar to the silver-containing alginate dressing, and the difference from the silver-containing alginate dressing is that the dressing absorbs exudate and does not form a gel state.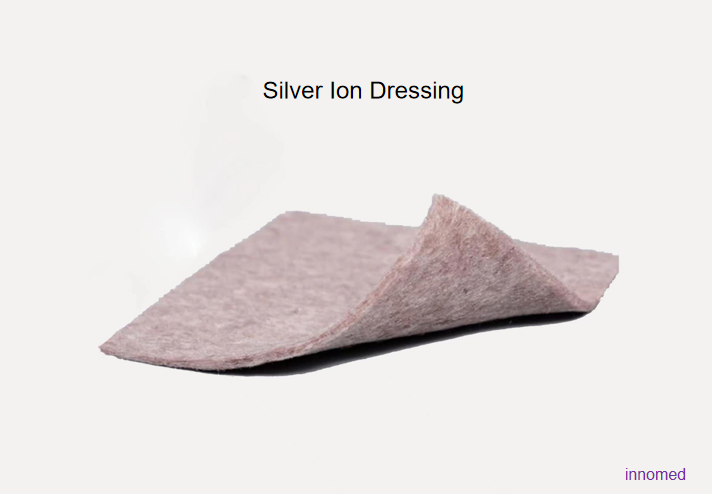 Silver dressings are topical wound care products derived from ionic silver. These products release stable amounts of silver into the wound and provide antibacterial or antibacterial effects. Depending on the amount of exudate and bacteria in the wound, silver is activated from the dressing to the wound surface. Silver dressings can be used as foam dressings, hydrocolloids, barrier layers and carbon cloth dressings. Silver dressings can be used with other dressings to reduce bacterial load, inhibit exudate, and optimize the appearance of wound granulation tissue.
Indications :
Silver dressings can be used as primary or secondary dressings to manage minimal, moderate or severe exudate in acute and chronic wounds including burns, surgical wounds, diabetic foot ulcers, pressure ulcers and leg ulcers. Silver dressings can also be used under pressure.
Advantages :
Provides broad antimicrobial activity
reduce infection
infection prevention
Alter metalloproteinases in wounds
difference in their functions should be considered when choosing silver ion dressings . Therefore, if you want to use us correctly, you need to follow the following four points and combine the actual situation of the wound.
Exudate volume :
For wounds with a large amount of exudate, silver-containing dressings that can absorb exudate well, such as silver-containing foam dressings, silver-containing alginate dressings, etc., can be used; for wounds with low exudate amount, hydrogel and silver ion antibacterial dressings can be used .
Is there a cavity :
For uneven wounds or cavities, silver-containing dressings with high flexibility can be used to make the dressings fit well with the wounds and eliminate ineffective cavities, such as alginate silver-containing dressings.
Residual necrotic tissue :
For wounds with more necrotic tissue residues, silver-containing dressings with debridement can be selected , plus hydrogel dressings ; for wounds with less necrotic tissue residues, appropriate silver-containing dressings should be selected in combination with other needs of the wound.
dressing change pain
For deep wounds or granulation wounds, non-adhesive silver-containing dressings can be selected to reduce the pain of dressing changes, and the barrier layer of silver-containing dressings can be added with hydrogel dressings.