Sodium alginate absorbs water until it is saturated. After absorbing exudate, it expands and acts as a gel. The gel is conducive to creating a moist environment for wound healing, and can be completely peeled off without leaving fibers on the wound surface.
The alginate dressing releases calcium ions into the wound to induce platelet activation and the production of blood growth factors, which can stop bleeding and accelerate wound healing. The barrier function of dressings to adsorb and block bacteria is to enhance the defense of wounds against pathogenic microorganisms by stimulating the activation of wound macrophages.
Keywords: alginate dressings, medical alginate dressing, alginate medical dressing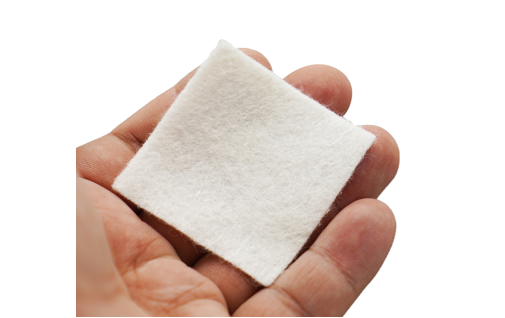 Alginate is a biopolymer that can be used in various biomedical applications due to its favorable properties, such as biocompatibility and nontoxicity. To date, it has been particularly attractive in wound healing applications. It can be tailored to materials with suitable wound healing properties. Alginate has been used to prepare different forms of wound dressing materials , and wound dressings made from alginate can absorb excess wound fluid, maintain a physiologically moist environment, and minimize bacterial infection at the wound site. The therapeutic effect of these wound dressings is affected by the proportions of other polymers used in combination with the alginate, the nature of the cross-linking agent used, the time of cross-linking, the nature of the excipients used, the incorporation of nanoparticles and the antibacterial agent. The absorbent alginate fibers in the dressing form a gel upon contact with wound fluid and gently conform to the wound surface. Alginate absorbs exudate from wounds while maintaining an ideal moist wound environment. The versatility of the alginate dressing means it can fit well on wounds of different shapes and is ideal for hard-to-dress areas such as cavities to promote internal healing.
Product style: alginate sheet and alginate ribbon
Product indications: Alginate is suitable for areas with moderate to severe exudation, granulation or slough .
Suitable for pressure ulcers, venous and arterial leg ulcers , diabetic ulcers , tooth decay wounds, graft wounds and donor sites , postoperative surgical wounds, superficial and partial thickness burns and also controls minor bleeding.