Product Description:

1. Three base materials including water-repellent spunlaced non-woven fabric, spunlaced non-woven fabric (45-50g/m²) and composite PU spunlaced non-woven fabric are adopted, which can be selected according to clinical requirements.

2. It has excellent impermeability, prevents bacterial invasion and protects the wound.

3. Specially made hypo-allergenic adhesive: the amount of spread is 30-50g/m², initial adhesion and repeated adhesion are good, the peel strengthis moderate, tearing and uncovering will not cause pain easily, edges won't become cocked easily, the adhesion time will be long, and it will not fall off when it meets water.

4. With advanced coating technology, excellent moisture permeability, not prone to skin sensitization.

5. Absorption of absorbent pad ≥ 8 times. The dressing does not adhere to the wound because of the surface of inlet diversion net and it is easy to change the dressing. Tearing and uncovering will not cause secondary injury to the wound.

6. Waterproof nonwoven fabric dressing are waterproof, leak-proof, can be used when bathing, which enhances the quality of living.

7. With humanized design, a complete range of specifications, and multiple product models, providing more choice for clinical use.
Product Structure:
Absorbent Pad、Meshed Spunlace Nonwoven Fabric、Spunlaced Non-woven Fabrics Mesh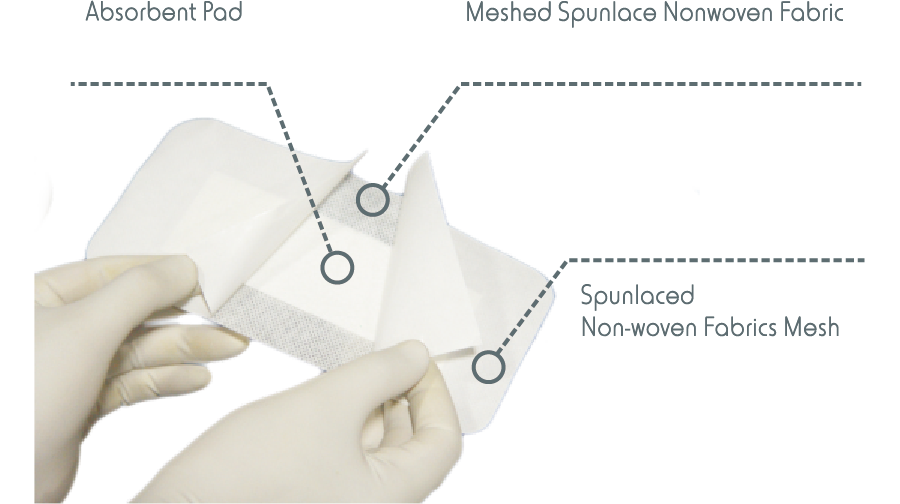 (Patented Product)
| | | |
| --- | --- | --- |
| | | |
| Fingertip Wound Dressing | | Joint Wound Dressing |